Therapy Dog Class Information:
We have teamed up with Geisinger to help with their "Paws to Reflect" program where dogs go into Geisinger and help the staff have a better day. MMDT also works with Alliance of Therapy Dogs they help us with the evaluations. How to get started? The main thing is basic obedience that is where everything starts, our classes offer the basics as well as the A.K.C. Canine Good Citizen Test, we start every session off with an orientation for the owners to go over everything you will learn and answer any questions you may have. We do require a deposit of $50 to hold a spot via Venmo, Zelle or you can send a check, then the balance is due cash or check the night of orientation. We suggest not using a harness for class or a flat collar as dogs can sometimes slip them, we recommend a training collar or a chain martingale collar that they can't slip out of. Training collars are discussed at orientation as not all dogs may need them to start. If you don't know what a martingale collar it is pictured below, easy to order on Amazon or at a local pet supply store. The session will also focus on the A.K.C. Canine Good Citizen Test, getting your dog around wheel chairs, crutches, canes and walkers. Once you are done with the session you contact an Alliance of Therapy Dog Evaluator (we help you find one)to take you to your final step. If you have any questions please call, text or email us. 484-306-3647 or manneredmuttsdt@gmail.com
The cost of the session is normally $250 if you are a Geisinger employee there is a $25 discount.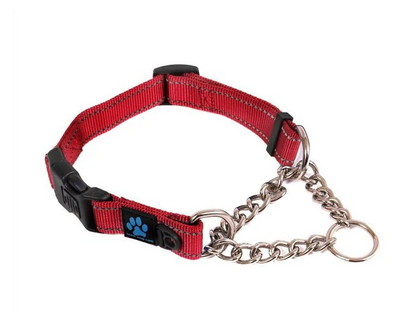 © Copyright manneredmuttsdt.com