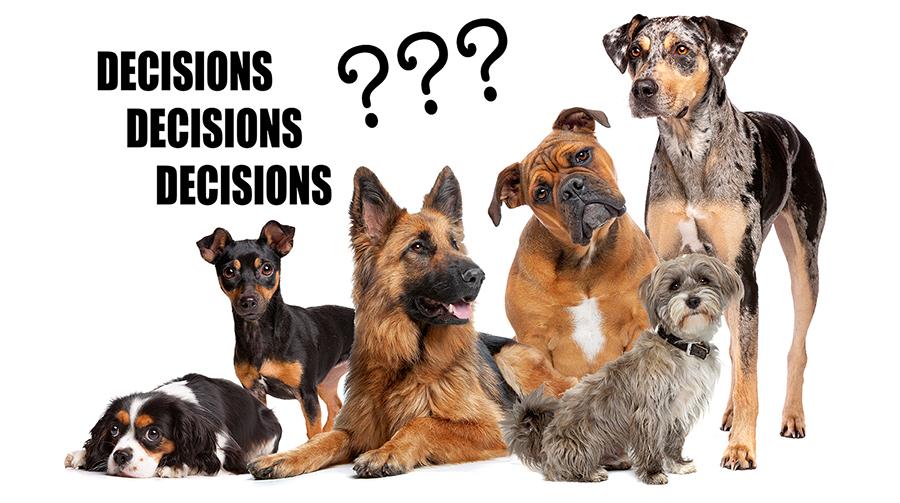 Thinking of adding a new dog to your home? OR Maybe adding a second dog...We can help
- Analyze your lifestyle - are you active or a couch potato? Do you hike a lot? How many hours do you work in a day?
These are all important questions when deciding what type of dog to get.

- Read about the different breeds you are interested in. So many great place to go. www.akc.org or go to a local dog show and talk to the owners and meet the dogs up close and personal

- Breeders or a rescue? Either one is a good choice, if you decide to go to a breeder make sure they are reputable. Ask them questions, they should also be asking you questions.
- How long have they been breeding
- How often do they breed the females
- Can I meet the parents
- What kind of health testing did you do
To a rescue:
- How long has the dog been in the shelter or fostered
- Have they had any training? Do you have a trainer I can contact?
- What if any issues does the dog have?
- Ask a pro, we have pre-adoption counseling right here at Mannered Mutts!
Adding a second dog?
Make sure the energy level of your current dog matches that of the new one!
Do not add a puppy to the home if you already have an older senior dog.
Going off to college? Wait until you graduate and have a home and are ready for a dog. Please don't get a dog then leave the pup for your parents to raise, remember it's your dog your responsibility!
- Overall, if you don't have time to exercise and train a dog please get a goldfish. Remember it's a life and they require attention, training, exercise and lots of love too!